'Perfect storm' for nursing talent crisis say recruiters
3 July 2017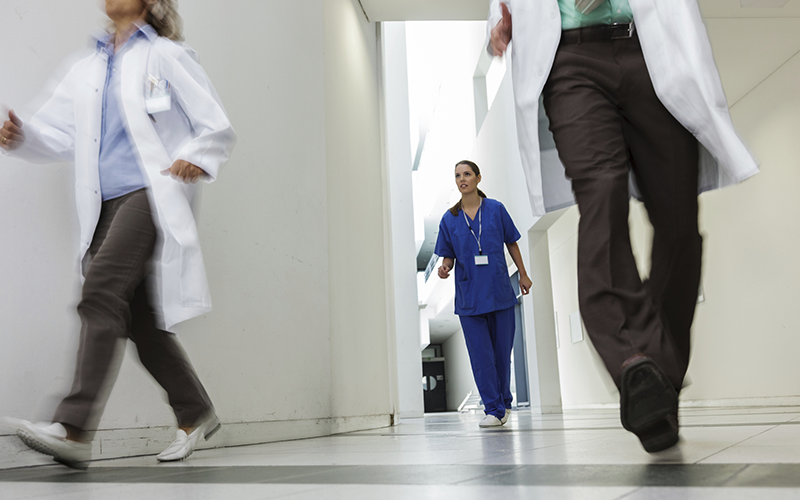 Recruiters are finding it harder and harder to source good quality nurses, as research show for the first time in almost a decade more nurses are leaving the profession than joining.
The BBC reports that Nursing and Midwifery Council (NMC) findings show, for the first time since 2008, more nurses and midwives are leaving the profession in the UK than joining it. Numbers registering in the UK have fallen by 1,783 to 690,773 in the year to March.
The NMC said the decline had been most pronounced among British workers, with many of those departing citing working conditions as a reason for leaving. The government, however, said there were now 13,000 more nurses working in England than in 2010.
According to recruiters, the NHS is facing a perfect storm due to stringent English language testing making it harder to recruit from overseas, a crackdown on agency use, a public sector pay freeze, tough working conditions and Brexit all contributing to the NHS's hiring travails.
Barry Pactor, group managing director at ttm Healthcare, told Recruiter pay and conditions are currently "dreadful" for nurses at the moment.
"There's a huge nursing shortage and there's an ageing population. There are growing pressures on the health service and it's just not a great place to work. Despite the best efforts, morale is probably at its worst ever.
The domestic skills shortage issues and poor retention of talent meant that for a while EU nurses provided a temporary sticking plaster. Brexit has now ripped away this plaster and exposed a wound that was never able to heal.
"The crisis in the NHS over the last winter was incredibly intense and incredibly severe... People are burning out and are leaving the profession.
"I think in the past 12-18 months the NHS has been pushing really hard to reduce the role of agencies, to reduce the use of overtime – that's not been helping. Whereas it's been a pressure release valve for nurses, we're now losing them altogether from the profession.
"It's getting harder and harder to find good quality nurses. We've been looking overseas to try and increase the number of nurses here in the UK but obviously that's coming under significant pressure because of the English language tests and to a lesser extent Brexit.
"This is making it incredibly difficult to be a nurse in this country."
Olivia Spruce, director at TFS Healthcare, agrees, describing the NHS's current nursing talent crisis as a "perfect storm".
"A culmination of a pre-existing lack of domestic nursing numbers, coupled with the number of nurses leaving the NHS largely for issues around total disillusionment around patient-care and lack of recognition, and also added to this is the exodus of EU nurses leaving the NHS. We must remember that EU nurses were once seen as almost a panacea to the national healthcare staffing crisis. The domestic skills shortage issues and poor retention of talent meant that for a while EU nurses provided a temporary sticking plaster. Brexit has now ripped away this plaster and exposed a wound that was never able to heal.
"Everyone is feeling this staffing crisis which, unless we take a universal approach to dealing with, it will only deepen."
Also commenting, Stephen Burke, CEO of HCL Workforce Solutions, called on government to "get a grip" on the situation.
"In November 2015, nursing was added to the UK shortage occupation list, in recognition of the fact government initiatives to increase the supply of UK newly qualified nurses would take 4-5 years. In January 2016, the NMC then introduced a English language testing process standard which has subsequently strangled the inflow of high quality nurses from within the EU, as well as from non-EU countries.
"Furthermore recent government interventions, in particular the introduction of aggressive agency rate caps and tax rules for the public sector altering NI and tax rates for agency nurses, have exacerbated the exit of nurses from the profession by impacting the flexibility agency work offered and seeking to eliminate, in the face of the basic laws of economics, the modest financial reward such flexibility attracts.
"The figures released today further support our argument that the UK requires a more effective process for hiring nurses from abroad to urgently make up the shortfall in qualified practitioners. We continue to be committed to working with the NMC as they review the English language testing process (IELTS)."
• Want to comment on this story? Email us at recruiter.editorial@redactive.co.uk or tweet us below to tell us your thoughts. We will run comments online in a round-up at the end of the week.