Morson mocks-up comic book hero profiles to entice mortals to apply for jobs
26 May 2017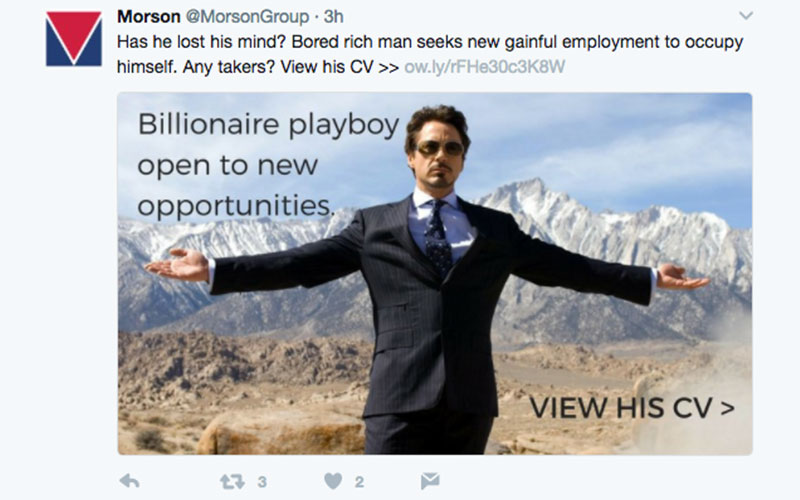 A social media marketing campaign launched by Morson Group involving famous fictional engineers Darth Vader, the Incredible Hulk and Iron Man has successfully attracted job applications for some of their vacant roles.
This morning the international engineering and design recruiter tweeted: "Has he lost his mind? Bored rich man seeks new gainful employment to occupy himself. Any takers? View his CV", along with a link.
The link takes you through to a mock-up social media profile outlining the CV and achievements of the CEO of Stark Industries Tony Stark, better known to comic book fans the world over as Iron Man.
But a spokesperson for the group told Recruiter this morning Stark is only the third famous engineer to have featured in the campaign.
"Over the last few months, we've been adopting a content marketing strategy. We have been creating a lot of content in-house. We had the idea that it would be nice to do some more lighthearted content to go alongside the more serious stuff that we've got.
"We thought about famous engineers, who are in films and TV. We have got three so far. Tony Stark is our third one. The first one we did was Darth Vader, as a construction project manager managing the Death Star. The second one we did was Bruce Banner – the Hulk, as a nuclear scientist.
"The great thing is we have had some conversions [job applications] from it as well. It's been really nice to see. There's actual jobs listed on that page as well down the right hand side. They're real job boards that we've got live at the minute."
• Want to comment on this story? Email us at recruiter.editorial@redactive.co.uk or tweet us below to tell us your thoughts. We will run comments online in a round-up at the end of the week.