CBI head warns of 'Darwinian moment' for business
CBI head warns of 'Darwinian moment' for business
DeeDee Doke
9 September 2020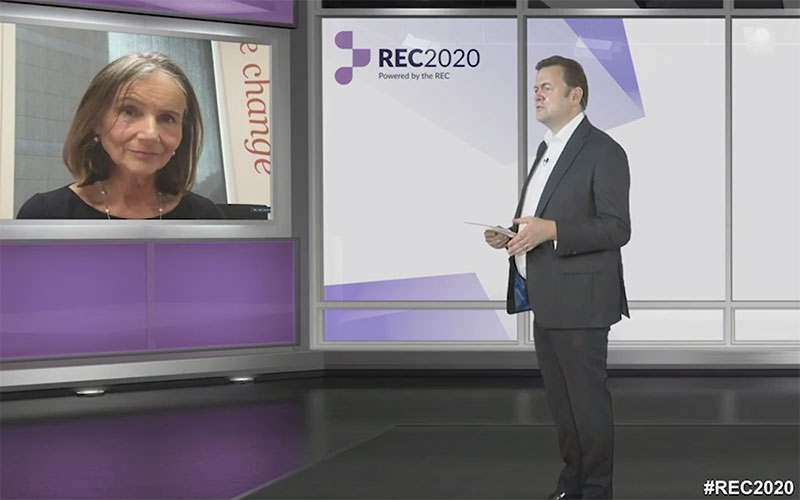 CBI director-general Dame Carolyn Fairbairn has termed the Covid pandemic recovery "a Darwinian moment" for UK business, with "winners and losers drawn very sharply", in the opening keynote speech at the Recruitment and Employment Confederation's REC 2020 conference on 8 September.
Fairbairn, who will leave the top role at the UK's leading business consortium at the end of the year, warned: "We are heading into a period of high unemployment… We will not be able to head off a tsunami of high unemployment."
She characterised the current business-challenged environment saying: "I do think this is a Darwinian moment… This is going to be about survival."
During her keynote address, Fairbairn called on government to build a retraining agenda in "a people-led recovery" for those who will have lost work as a result of the pandemic and because of changes to business already underway pre-Covid which have subsequently speeded up.
Partnership between government and business has never been more important, she said, adding that the two sectors now had the opportunity to create "the partnership of the century" by joining forces to revitalise the UK's economic recovery.
She also argued for "ongoing support" for furloughed UK workers after the scheme was due to end in October, saying that resultant costs should be shouldered by business and the individual workers themselves, in addition to the Treasury. Acknowledging that such discussions were under way with government, Fairbairn said, "We hope we will see a real step forward shortly."
The CBI director-general was critical of how 20% of furloughed workers overall and 40% of furloughed IT workers had been asked to work during their furloughs, when the government was covering 80% of their salaries to not work. "These are things that will come home to roost," she warned.
Fairbairn also expressed optimism for the future world of work, citing more flexible attitudes towards different models of working, the breaking down of work silos and greater trust between employer and employee. She added: "We need to bottle…" the increased productivity and better work communications "…than we have seen in many years."