REC membership votes for new Council
REC membership votes for new Council
11 June 2019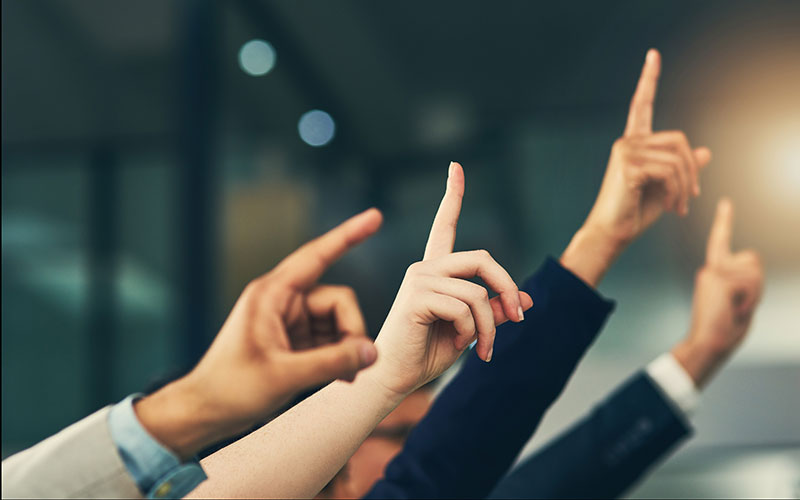 Voting is now open to elect members onto the Recruitment & Employment Confederation's Council for 2019-20.
This year the REC Council has eight vacancies for members to vote for, including six corporate directors and two individual directors. Two existing directors are seeking re-appointment – REC chair Chris Moore, and the chair of the REC's professional standards committee, Rebekah Handford. Diane Martyn is standing down having served her maximum six-year term. Neeti Gupta is standing down as an individual director.
REC members are entitled to vote for vacant corporate director positions, and IRP members vote to fill individual director positions. Corporate members are entitled to one vote per company.
Election results will be announced at the REC annual general meeting on Thursday 20 June at 12pm at the REC's London offices.
The REC Council's Working Board are directors who chair core areas of the REC's operation. The Working Board is made up of the REC Council chair, two vice-chairs, and the chairs of the REC's three standing committees – the Professional Standards, Employment Policy and Finance Committees. The Council acts as the governing body, but delegates some of its powers to the working board.
While the Working Board is drawn from the elected council, there are no specific requirements for members to be either a corporate or individual director.
There are 24 elected seats on the council, plus the REC CEO. While 17 seats are elected by the corporate members, seven are chosen by individual members.
Current REC Council working board members are:
Corporate directors: Christopher Moore (chairman), Jeanette Barrowcliffe, Jacqueline Hilton, Rebekah Handford, Diane Martyn, Sarah Thewlis, Simon Conington, Karen Davison-Renouf, Aidan Anglin, Tim Jacob, Gary Wilson, Jessica Williams, Paul Sharpe, Michelle Mellor, Sarah Hopkins
IRP directors: Paul Jacobs, Neeti Gupta, Louise Hewett, Mark Edwards, Heather Salway, Mark Channon
Candidates for election as corporate director are:
Daniel Brooks, CEO, Virtual Human Resources
Alex Fleming, president of staffing and solutions and country head, The Adecco Group UK & Ireland
Oliver Gosden, director, People 2 Keep Ltd (T/a Keep Education)
Rebekah Handford, managing director, Highpoint Recruitment Consultants 
Darren Logue, divisional director, Randstad
Ross MacRae, group HR director, Orion Engineering Services
Stuart Moore, MD, Plus One Personnel 
Janine Owen, director of marketing & communications, Search Consultancy
Mandy Purdie, MD, RSE Group
Jo Pursaill, director of talent, ManpowerGroup
Poppy Sewell, director, Globe UK Recruitment 
Ben Wilson, CEO, Grovelands
Simon Winfield, MD, Hays UK & Ireland
Candidates for election as individual director are:
Rebekah Handford
Christopher Moore
Gary Taylor
Commenting on the importance of the Council's work, REC CEO Neil Carberry said: "The Council is the body that challenges REC to be the best it can be for our industry. It helps us make sure we speak up for recruiters, set high standards and help members to grow. Our Council reflect that ambition – delivering a REC that is ever more dynamic, influential and effective."
All candidates were given the opportunity to speak to Recruiter for this article. Chris Moore, who has served on the council since 2013, said he has a deep understanding and passion for the recruitment industry having operated within it for the past 25 years. Having left his role at Adecco in 2018, he is seeking re-election to the council as an individual member to fulfil his final year as chair. 
"In the past 12 months," said Moore, "the REC executive team, supported by the Council and by the Working Board, has redefined the future of the role of the REC will play in order to provide world-class support to our members for the long term. We have built a new CRM that goes live in the summer of 2019; we will see our materials and services delivered in real time through our digital transformation programme, and our new website will be delivered alongside this over the coming months.
"I feel a huge sense of pride when I look back on the journey we have been on," Moore continued, "and feel an even greater sense of excitement about where the future plans will take us. The REC is in great shape financially. We have invested in modernising our proposition and our lobbying voice grows stronger as we work tirelessly to promote the industry, and the incredible people that work within it and make it what it is.
"My objectives for my final year in office are to ensure the CRM is delivered, the digital transformation made real, and to work with the industry to find my successor for chair in time for the AGM in June 2020."
Here are other candidates who spoke to Recruiter:
• Danny Brooks said he intends to change the industry's culture by championing ethical recruitment, ensuring candidates have the knowledge and support they need, with insights gained from years of recruiting around the world.
• Alex Fleming described herself as a strong advocate of a positive workplace environment in line with productivity and growth, adding: "A motivated workforce with a focus on talent development is critical to success. I hope to join the REC to help positively influence the industry and its members."
• Oliver Gosden, who has 20 years' experience within industrial, driving, commercial and education, plans to raise awareness of the REC along with its specific sector: "Working for large multi-nationals and smaller independent companies allows me to understand and help guide future policies."
• Ross MacRae said he has 30 years' industry experience. He has been group HR director at Orion Group since 2011, enjoying a career split between recruitment/HR and client/supplier. He says his strengths include industry legislation knowledge and appreciation of agent/customer dynamic, priorities and influences. Key aims for the REC should be compliance, maintaining a flexible workforce and engaging the membership to support REC priorities.
• Janine Owen told Recruiter she is passionate about the growth of women leaders within the industry, with particular emphasis on those with regional influence, in particular the North of England and Scotland, adding: "As a sector that is undergoing massive change due to emerging technologies and communication platforms, the role of subject matter experts from business growth disciplines – such as marketing – and providing an alternative perspective are key to industry agility and reputation."
• Mandy Purdie told Recruiter that as the owner of a small recruitment company, like 90% of the REC's membership, she understood the issues they face daily. Among her most pressing issues is educating clients to become employers of choice.
• Gary Taylor has held directorships across both small and large organisations in various sectors. If elected, he said, he will champion the recruitment industry and ensure that the REC proactively represents the industries in which recruiters operate. He will ensure that SME recruiters are given a voice and also that the REC listens to its members.
• Ben Wilson said he is passionate about delivering great client service and believes this is best achieved when recruiters truly understand the needs of their client, adding: "If elected, I will support the REC executive team to encourage the industry to be more client-focused and build on the existing propositions that support members to deliver great service."
• Simon Winfield, with over 25 years' experience, said he is incredibly passionate about recruitment and would like to ensure recruitment strengthens its position as a leading force in UK industry. "My objectives are to professionalise the industry, have a stronger influence on issues like IR35 and celebrate the tremendous impact good recruiters can have."
Members will receive an email from Electoral Reform Services, the administrator of the 2019 Council Elections, which contains a link to take them to the election hub page, where they can vote and view candidates' information. The link members receive is unique and should not be forwarded on to anyone else. 
Voting closes on Tuesday 18 June 2019 at 5pm.
Election results will be announced at the REC annual general meeting on Thursday 20 June 2019 at 12pm at the REC's London offices.
• Comment below on this story. You can also tweet us to tell us your thoughts or share this story with a friend. Our editorial email is [email protected]