Top Cat rules A1 Locums on International Cat Day
Top Cat rules A1 Locums on International Cat Day
Graham Simons
8 August 2018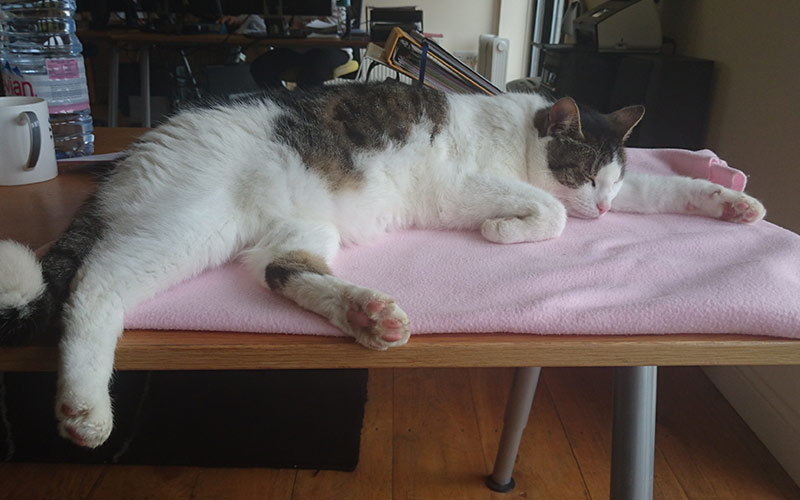 In honour of International Cat Day, Recruiter spoke to a recruitment agency that has a feline receptionist.
Earlier this summer, Recruiter brought you a story about the benefits of having canine consultants to call upon to celebrate Bring Your Dog to Work Day.
In the interests of balance, Recruiter spoke to veterinarian staffing agency A1 Locums about their feline receptionist TC.
Senior recruitment consultant Sophie Vickers explained TC's in a job share with his canine companion, a black Labrador by the name of Wilbur.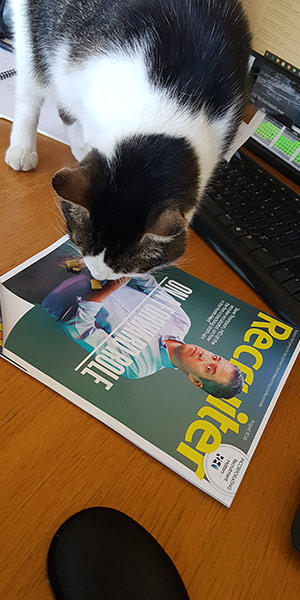 According to Vickers, TC and Wilbur are known to come around and meet visitors to the office with a friendly miaow or woof, which she says always lifts the mood of the office and makes everyone smile.
TC doesn't have a long commute as his home is just next door to the office where he lives with his human, A1 Locums director Clare Alderton.
And it seems TC doesn't seem to make a distinction between his own home and the office. "He knows all of us and comes and gets treats, or sits or lies on our desks… He just comes in, especially in the winter. He goes off when he wants to and comes back when he wants a bit of a fuss from everybody."
While TC is a friendly kitty, interaction with him is on his own terms, Vickers adds.
"He's quite grumpy. He doesn't like being cuddled – it's fuss on his own accord. He'll walk across everybody's keyboards. If you've got any paperwork, he'll lie across that… if there's any paperwork, it's always got muddy prints on because he's walked across our desks or something similar."
But it appears TC's been a free spirit since he was little. "When he was a kitten, Clare had her window open. He made a swift exit out the window and he was hanging on for dear life with his little claws. Anne made Clare go and make a cup of tea as a distraction and [recruitment manager] Anne [McManus] went to catch him. We think that's one of his nine lives done.
"In the house it's all open plan. So TC decides to run up the banister, falls off and lands on the sofa. He didn't speak to anyone for a couple of days through pure embarrassment!"
Despite all this, we know that all the staff at A1 Locums are feline that TC is the purrfect member of the fur-midable team of paw-some recruiters [enough of the cat puns – Ed.].
• Comment below on this story. You can also tweet us to tell us your thoughts or share this story with a friend. Our editorial email is [email protected]