Clegg urges recruiters to be a bridge between clients and candidates from 'lower-caste' backgrounds
Clegg urges recruiters to be a bridge between clients and candidates from 'lower-caste' backgrounds
28 April 2017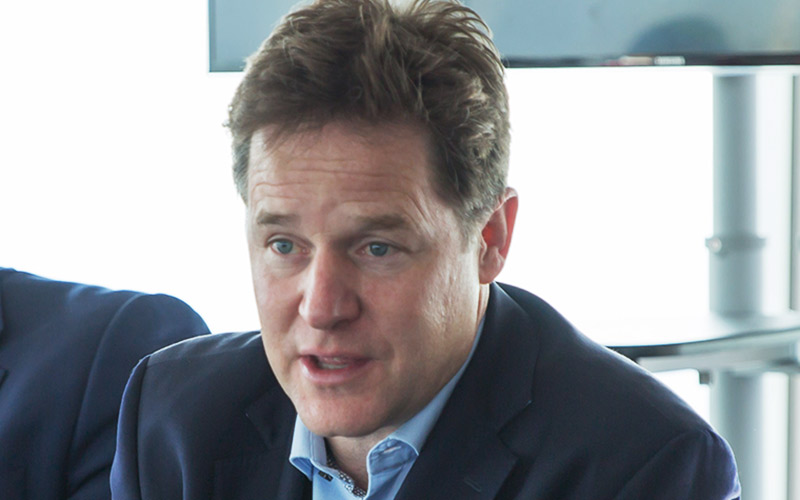 With the UK suffering from a "social caste" system, recruiters need to be the bridge between clients and candidates to boost social mobility across the UK, according to former Deputy Prime Minister and Liberal Democrat leader Nick Clegg.
Speaking at an event organised by talent acquisition and management solutions provider Alexander Mann Solutions at the BT Tower in London's West End, Clegg told an audience it was important that recruiters act as the "bridge" between candidate and client. He said this was so firms knew how to look for potential among candidates that they otherwise might not properly consider, while also providing support to candidates to present and express themselves in the most effective manner.
Clegg, a trustee at the Social Mobility Foundation (SMF), a charity whose mission it is to make a practical improvement in social mobility for young people from low-income backgrounds, spoke about findings from the organisation's benchmarking tool, the Social Mobility Employee Index 2017.
He also elaborated on the findings during a subsequent panel debate about how UK youngsters from certain backgrounds struggle to progress their careers due to what he called a "social caste" system. "The circumstances of your birth still shape your future more fully than almost any other developed economy in the world," Clegg said.
"We are in effect presiding over something that is not even a social class system. It's a social caste system because it means the circumstances in which you were born trap thousands upon thousands upon thousands of very bright, very brilliant youngsters, who could otherwise be living far more fulfilling lives. That seems to me flamingly unfair and I still bridle at what I think is the complacency with which we talk about this but don't really act to do something about."
According to Clegg, the greatest barrier to social mobility is a mindset that causes young people to believe they do not belong in certain environments.
"One of the things we are doing in the mentoring programme in the SMF is you can bring two people together but if the mentee doesn't have the self-belief that they deserve to impose upon the mentor, then it doesn't work because they don't have the intuitive self belief that they can keep badgering them by email, by telephone. The greatest barrier of all is that profound one: do I deserve to imagine myself in a world that I don't feel I belong?"
British barrister and former child refugee Hashi Mohammed explained this mindset could be formed at school level. "In the schools Nick has attended, unlike the schools I have attended, you have confidence inculcated in you in a way that can only be described as how foie gras is made – in that it's rammed down your throat from a very young age consistently. Whereas where I come from, what you're more likely to encounter is advice from teachers, who constantly tell you to lower your sights in line with your surroundings."
But Sir David Walker, non-exec director of Alexander Mann Solutions, was hopeful these mindsets could be changed going by his past experience as CEO of the Royal Air Force's training group.
"In one of my jobs in the air force I was commanding RAF Halton, which does phase one training from the Royal Air Force, which is nine weeks. We were taking kids from extraordinarily diverse backgrounds.
"Every week, we were graduating a course of kids – around 100 kids, typically 18-20 years old. The parents would come then and have drinks, and always they said how have you made this change? How has this transformation happened?
"In truth, I'm not sure we could have given you the answer but it was about building these kids up, building up their confidence and in nine weeks the parents would always say 'they're taller' because we stopped them slouching – they were able to stand up. They communicated better because they were living in peopled rooms, so they had to talk to each other.
"Engineering in self belief isn't that difficult if you've got a system in which you can do it."
• What are your views on this issue? Do you and your firm have processes or methods in place to help youngsters develop their self-belief? Email us at recruiter.editorial@redactive.co.uk or tweet us below to tell us your thoughts. We will run comments online in a round-up at the end of the week.