Future Gazing: A 2020 Vision for Recruitment in the Northern Powerhouse
Future Gazing: A 2020 Vision for Recruitment in the Northern Powerhouse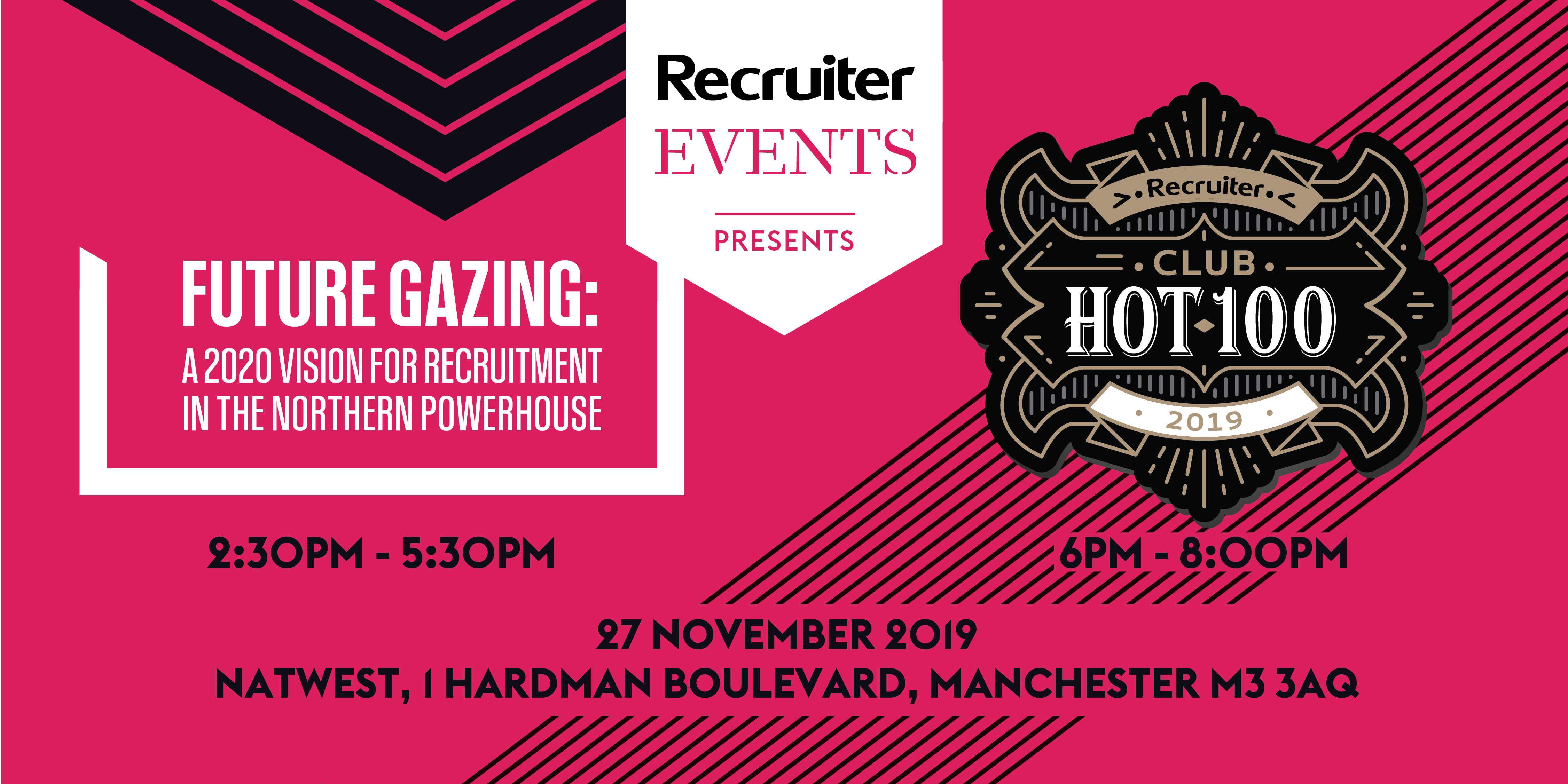 As 2020 approaches, Recruiter and expert speakers look at how the government's strategy for the Northern Powerhouse is progressing in the context of the recruitment industry.
Sponsored by NatWest, our mini-conference on 27 November examines the current economic state of play in the North, the region's climate for job creation and vacancy filling, and trends being led by innovative recruitment businesses. Stay tuned for announcements about our speakers at this afternoon 'must attend' event. Open to all recruiters.
And in the evening…

Has your recruitment business ranked in our Club HOT 100 since its establishment in 2006? Then you're invited to our evening celebration in Manchester of the HOT 100 2019! Also sponsored by NatWest, this exclusive event is open to recruitment consultancy leaders–owners, C-suite, managing directors and board members.
 
Event key information
Date: 27 November 2019
Fee: This event is free to attend, please click here to book your place.

*If you are an industry supplier or a non-recruitment organisation your registration carries a fee of £245 + VAT, please click here to book your place. 
Timings: Conference 2.30pm - 5.30pm. Recruiter's Club HOT 100 6pm - 8pm
Location: NatWest, 1st Floor, 1 Hardman Boulevard, Manchester, M3 3AQ
Contact: For any questions regarding the event, please contact ontheroad@recruiter.co.uk or call 0207 324 2771  
 
Solutio is a state-of-the-art software platform that is transforming the payroll operations of numerous umbrella companies, professional employment organisations and recruitment agencies.
Cloud-based with its own unique worker app, Solutio synchronises contractor data, assignment information and financial transactions across all elements of the supply chain including hirer, recruiter and payroll provider.
With lightning-fast payroll one-click payroll runs automatically shared with HMRC, Solutio preserves all facets of compliance and transparency.